Unicell Truck Upfits at Rick Hendrick City Chevrolet
---
All of Unicell's van bodies are built from a one piece molded fiberglass outer shell. There are no seams to separate and leak, and no metal to rust and dent. Without leaks and cracks, paint stays looking fresh and shiny. Unicell bodies have an uninterrupted, smooth and glossy gel coat exterior, making it the perfect surface for company logos and eye grabbing graphics. Unicell fiberglass bodies are so strong and durable, they're backed by a five year warranty.
View Unicell Upfits
---
Unicell Cutaway Van
Your business will save money in fuel costs when you choose a Aerocell van body. Designed with 3D CAD software, the Aerocell continues and enhances the lines of the Ford or GM cutaway van, creating a sleek look that allows smooth, quiet air flow. The result is substantial fuel savings of up to 20% better than other competitor's truck bodies, as reported by customers. This can mean thousands of dollars saved over the life of your truck! As always, Unicell bodies are backed by a five year limited warranty.
View Unicell Aerocell Upfits
---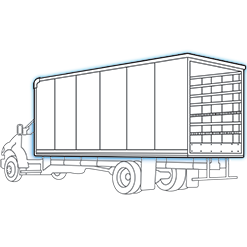 Unicell Dry Freight
The most practical body in today's industry, our low-maintenance Unicell is easy to repair, made to show off your company's logo and graphics, and is built tough enough for heavy loads without increased weight. Handling GVWR's up to 32,000 lbs, these workhorses are built with extra heavy duty features such as 3″ structural steel crossmembers, wider rub rails, and front crash plates. Add these to the aesthetics of Unicell's fiberglass bodies and you have a unique and attractive, yet durable, dry freight van. All Unicell bodies are backed by a five year limited warranty.
View Unicell Dry Freight Upfits
---
Unicell Service Utility Vans
Unicell stays true to its "One Piece Fiberglass Body" and has created a 12′ single rear wheel Service Van Body. We call this model the Servicell. We took our very popular Aerocell CW model and turned it into a fantastic service body! The combination of a strong one piece fiberglass shell, smooth gel coat exterior, and robust exterior compartments makes this body a perfect fit for your trade!
View Unicell Servicell II Upfits