Knapheide Upfits at Rick Hendrick City Chevrolet
---
Knapheide brings quality commercial vehicle solutions, including truck beds and work truck equipment, to a variety of trades and businesses. Designed for specific businesses and vocations, Knapheide truck beds are tailored to support even the toughest jobs. From contractors and electricians, to farmers, mechanics, linemen, and more, tough jobs can find a full selection of Knapheide upfits at Rick Hendrick City Chevrolet.
View Knapheide Upfits
---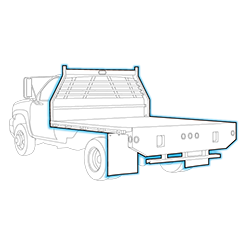 Knapheide Platform Body
Knapheide Platform Bodies empower safe and efficient bulk material and large equipment transportation. Knapheide has the correct upfit for your busy jobsite. Vocational Platform Bodies are available for specific jobs, including linemen, contractors and landscapers. Choose from our selection high-quality options and accessories such as floor materials, hoists and more to customize your Knapheide Platform Body.
View Knapheide Platform Upfits
---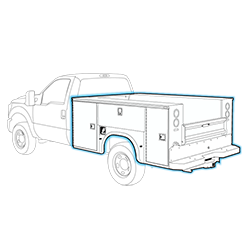 Knapheide Service Body
Considered your workshop on wheels, a service truck handles all the tools, parts and equipment you need to do the job. Knapheide manufactures a complete selection of Service Bodies for nearly all jobs and truck sizes. Whether you need a body that can handle your large quipment, tools or welding devices, Knapheide has a Service Body that will meet your commercial needs.
View Knapheide Service Upfits
---
Knapheide KUVs
Need a dependable enclosed utility body for your work truck? The KUV from Knapheide has been trusted by contractors and technicians and is valued among the HVAC/plumbing, electrical, construction, utilities, telecommunications, and skilled trades for use in the field. Knapheide enclosed utility bodies have side storage compartments and secure oversized cargo areas. The KUV also enables you to organize tools for higher jobsite efficiency and productivity.
View Knapheide KUVs
---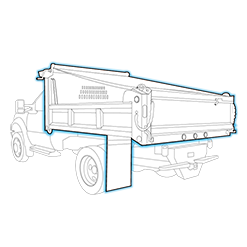 Knapheide Dump Body
Knapheide Dump Bodies have been totally resdesigned to offer versatile a double-acting tailgate, innovative quick-release lever on drop side models, and superior weather and corrosion resistance. Useful for outdoor construction, landscaping, lawn care, nursery and masonry companies, Knapheide Dump Bodies can handle heavy loads and work. Among light duty dump bodies, the Knapheide Dump Body is considered high quality.
View Knapheide Dump Body Upfits
---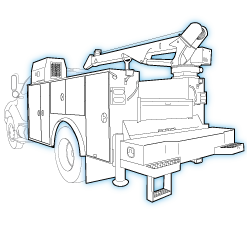 Knapheide Mechanics Truck
Knapheide Mechanics Trucks are utilized in rugged industries including construction, railroads, municipalities, mining, agriculture and equipment rental. Knapheide Mechanics Trucks are reliable, and encourage productivity and safety on the jobsite. Knapheide Mechanics Trucks feature complete turnkey packages that mechanics and skilled trades workers need. All Mechanics Trucks from Knapheide have a crane to perform the heavy lifting, mechanics drawers for tool storage and side compartments. Choose from our full selection of crane body lengths, electric or hydraulic cranes, compressors, welders, generators, lube packages and auxiliary lighting.
View Knapheide Mechanics Trucks
---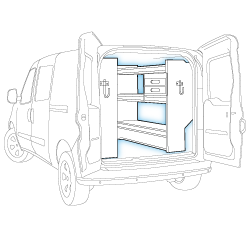 Knapheide Van Equipment
The Knapheide Manufacturing Company features an innovative line of van equipment from Sortimo. Sortimo North America partners with Sortimo International and The Knapheide Manufacturing Company to offer van storage solutions to mobile contractors. At Rick Hendrick City Chevrolet Work Truck Solutions in Charlotte, we can offer equipment including van shelving, van accessories, van partitions, van packages, van storage bins and drawers. Van interiors from Sortimo are both rugged and lightweight to maximize cargo payload. Don't just settle for the standard van equipment. Make your van your own with Sortimo.
View Knapheide Vans